The inflatable aqua park obstacle for lake is linked together by a series of inflatable slides, running tracks, jumping pillows and bouncers, floating in a clean, refreshing lake or sea. It has swings, ramps, jumps, ladders, trampolines, slides, swing bridges and more. Comes in a wide variety of shapes, sizes and functions to make activities exciting and entertaining for everyone!
Features of inflatable aqua park obstacle for lake
1. Reasonable price Same quality, our price is more competitive. This allows you to quickly recoup your costs.
2. Customized service Customize your unique, fashionable, multifunctional and most suitable park with free design fee.
3. No infrastructure required, easy to install. It has a wide range of applications, and can be used on lakes, seas, and swimming pools, and can be spliced freely and flexibly.
4. Diverse and rich styles, with EU patents. Also can be customized, 3D design.
5. Passed CE/EN, TUV, SGS certification, anti-cold and anti-ultraviolet, etc.
As one of the leading inflatable games manufacturers, Lilytoys provides various high quality aqua park, ground water parks and inflatable games for adults with custom service, welcome to contact us for more information!
Product process:
1) The main body is all made of 0.9mm Plato pvc mesh cloth, 1300D*1300D 28*26 high tensile force, high density
2) Fully automatic cutting machine imported from Germany. Ensure high efficiency and precise cutting.
3) Adopt high temperature heat sealing process. The welding quality is high, the sealing is good, and the appearance is beautiful.
4) And it is reinforced at the welding seam, and the internal reinforcement is reinforced with six processes. The product structure is stable and more airtight, and it can be used for a longer time after inflation.
5) Use the best inflatable valve and deflation valve to double maintain the air pressure and have excellent air-holding performance. Large equipment will also add safety valves to make it safer. When the internal air pressure of the product reaches a certain value, the internal air pressure is automatically discharged to keep the internal air pressure stable.
6) Inkjet printing is a combination of high-definition inkjet printing, special silk screen printing, and UV printing. The printing is stable and accurate, beautiful and gorgeous, and the color is guaranteed to last.
7) The product uses professional stainless steel fixing buckle and connecting buckle, internal and external multi-layer reinforcement, combined with sewing and heat sealing structure technology, durable and durable.
8) The product handles, fixing buckles and other accessories are made and pressed with professional molds, which are beautiful in appearance, durable, firm and precise.
Application areas:
Scenic spots, hotels, commercial plazas, sea, lake, self-built swimming pools, bracket swimming pools, etc.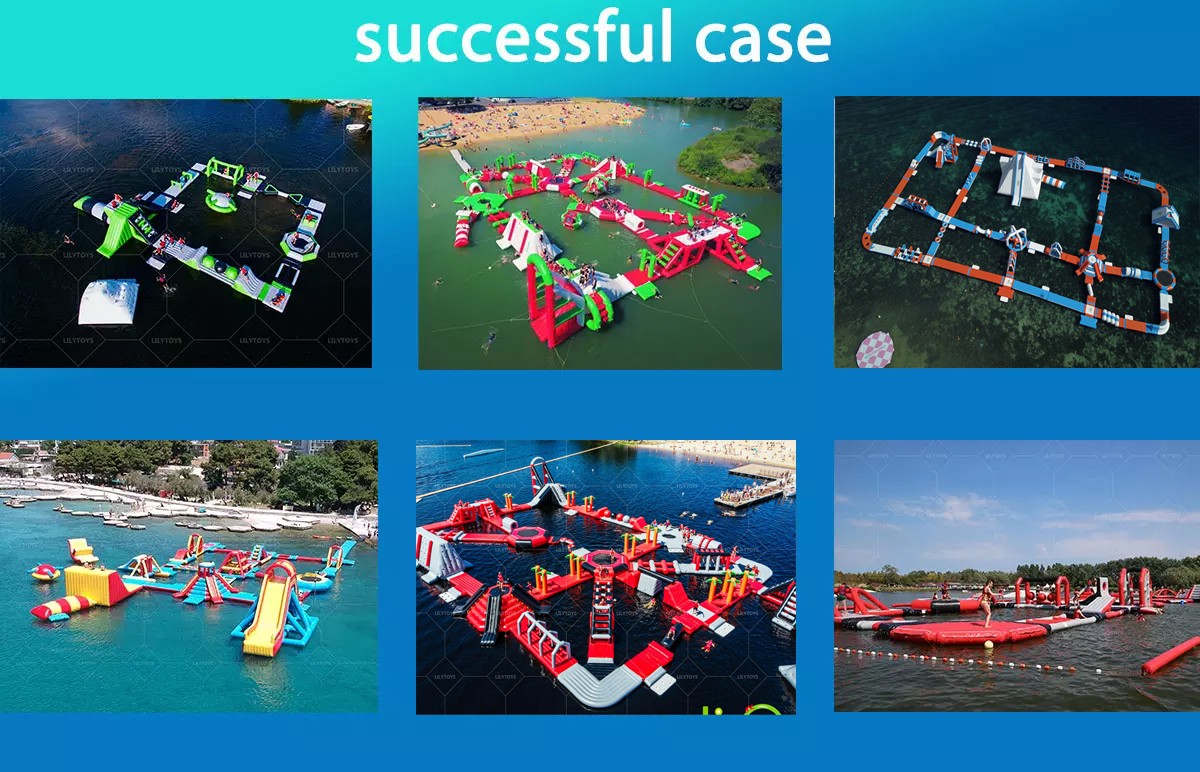 Lilytoys is one of the white hair for inflatable business in china since 2000. Quality is our culture.As the largest factory in Guangzhou, we are focus on "Fair Price, Best Quality, Delivery Safety Customer Satisfaction".
we are professional for the inflatable water park ,inflatable water obstacle course,inflatable water slide .Welcome to US !
With over 28800 sq.m workshop and more than200 professioanl workers,Lilytoys guides each projects from concept to completion.We have a professional design team and can satisfy all customer need.
Lilytoys with rich experience for the inflatable water park ,inflatable slide products .